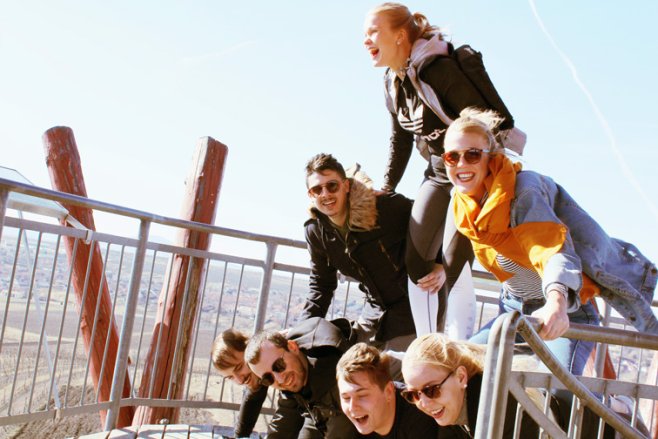 Welcome Weekend for Incoming Exchange Students
5. 4. 2017 Author: Tomáš Čonka
Southern Moravia is very well-known for its beatiful cities, friendly people and a long tradition of wine making. Among others, these are the reasons why we chose this locality for our annual Erasmus Welcome Weekend.
We left the crowded streets of Prague behind us and set off on our journey to city called Velké Pavlovice. Our goal is always to bring the people together and give them a glimpse of what their exchange stay could be like. Already during the travel we started with the first easy ice-breaking activities so even the students traveling on their own would feel welcome right from the beggining.
First evening we spent in a small but very cozy wine cellar with plenty of proper and very tasty local food and drinks. The program was filled with funny games, singing, dancing and getting to know each other in a different and neutral enviroment.
On Saturday's agenda was discovering the surroundings of Velké Pavlovice – the city itself, the nature of southern Moravia and other impressive and beautiful destinations near by. The students were during the day divided into groups and were given little tasks. The result was an amazing and very entertaining evening as each group gave their performance for the rest of us including a song, a poem or little sketch.
The last day of our trip we moved to the third biggest city of Czech Republic – Brno. There we visited the impressive Špilberg castle and historical centre. The Cherry on top and the very last stop of our trip was the first monument of peace in Europe called Mohyla Míru.
With new friendships created and heads filled with great memories we set off on the way back to Prague.