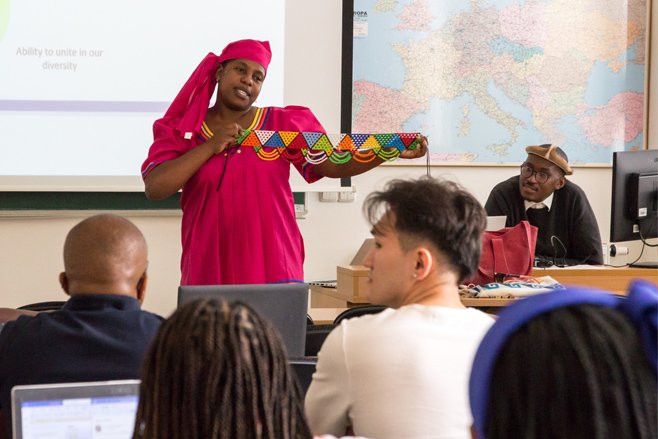 South African Business Students Visited MUP
Author: Tereza Němečková
On Monday, the 15th May 2023, and Tuesday, the 16th May 2023, MUP had the honour of welcoming a group of business students from our partner university in Pretoria, South Africa. Eleven students from the Tshwane School for Business and Society, accompanied by Professor Robinson, had the opportunity to experience two days of interactions with MUP students and Czech business representatives.
Within the framework of the MUP African Studies Centre, academic cooperation with several African universities has recently been expanded. One of these universities is the Tshwane School of Technology, located in Pretoria, South Africa, which includes the Tshwane School for Business and Society, the leading business school in the country. The School Director, Prof. Kobus Jonker, personally visited MUP last year to discuss various forms of cooperation. Among others, as a management professional, he delivered an online lecture earlier this year to our business students on disruptive technologies and their transformative power in African markets.
The program scheduled for the South African students included on the first day seminars with representatives from two Czech companies operating in the global market. The first company was Actum Digital, which provides various services to partners for managing experiences, commerce, business processes, content, and data at scale. Actum Digital, initially established as a student initiative several years ago, has grown into a global business delivering services to partners such as Christie's, one of the world's largest auction houses. The second company was Linet, the leading manufacturer of advanced care beds worldwide. In both cases, students learned and discussed various aspects of global expansion and conducting international business. All were grateful for openness with which representatives from both companies shared their experiences with them.
On the second day, the students were welcomed at MUP. During the first sessions, they interacted with International Business Master's students and mutually presented their countries as trade opportunities. In the following session, they engaged with International Business Bachelor's students and discussed the specifics of business negotiations. In the evening, the students continued with informal interactions over drinks. The entire day was filled with numerous interesting presentations, discussions, and interactions. Everyone was amazed by the professional performance of the South African students and the lively atmosphere they brought to the final week of our semester.
With my deepest gratitude, I would like to express my thanks to all the participants in those events and to the South African students visiting our university for the unique opportunity to share our views and experiences on business matters. We hope to welcome another cohort of students at MUP soon.