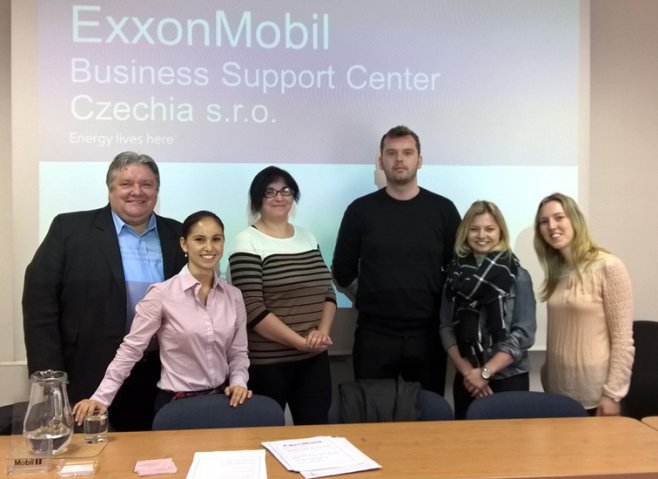 ExxonMobil Continues its Cooperation with the Metropolitan University Prague
9. 2. 2017 Author: Tereza Němečková
Department of International Business at the Metropolitan University Prague pursues its effort to develop cooperation with private companies and public administration institutions linked to foreign trade disciplines. The purpose is to enable students to have a direct contact with them, and thus allow students to better understand how these companies and institutions work. Last but not least, the aim of such efforts is also to introduce students to the various possibilities lying ahead of them both during study, and after that. One of these opportunities has been offered by ExxonMobil, an international oil and gas company.
The first contact with ExxonMobil Business Support Center in Prague (ExxonMobil) was established two years ago. Since then, several very interesting and useful presentations of the company representatives took place. In addition to the successful lecture of two company executives focused on marketing of the ExxonMobil brand in the global market, there were also some more of these interesting events held, e.g. an interactive workshop called Behavioural Event Interview - What Is It and How to Beat It? That event was focused on effective insight and personal experience students might find very useful during an admission procedure. The audience was acquainted with not only how to effectively use some profession platforms (e.g. LinkedIn), or how to write a cover letter and resume when applying for a job, but they were also shown how a job interview in the form of so-called "behavioural event" looks like (for event pictures please see the photo gallery below). To name another equallyinteresting event, a lecture on management of multiculturalism and diversity within a company as well as on environmental and social responsibility, including the relationship with the local community where the company operates, was carried out earlier last year. All these events brought students another insight into the real business of a multinational company. I am happy to announce that other events are already being planned for this year!
In addition, ExxonMobil offers internships to our students (registration is now closed, but the next cycle will be opened soon), as well as many interesting job opportunities (at the moment mainly to those with active knowledge of German language). I would like to express our gratitude to all ExxonMobil guests and our students for their active participation and I am looking forward to seeing all of them at some of the future events. For current information please see our profile https://www.facebook.com/kmo.mup/.