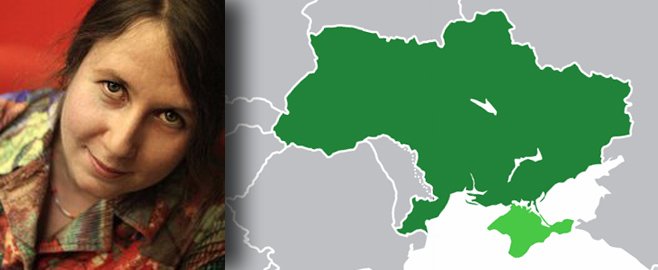 Crisis in Ukraine – The Insider's Perspective
7. 4. 2017 Author: David Erkomaishvili
Ongoing crisis in Ukraine has been discussed at an event organised by the department of International Relations and European Studies at MUP, on Thursday 30 March. The guest-lecture entitled "Challenging Sovereignty: How Russia Exploits its Diaspora in the post-Soviet Space" was given by Ms Anna Arutunyan a Russian-American journalist and writer.
In her role as a correspondent for USA Today she covered Russia's annexation of Crimea and the military conflict in East Ukraine. The guest lecturer discussed the issues related to conflicts in Ukraine and Georgia, Russian interventions in those conflicts and the role of Ukraine for Russian sovereignty. Ms Arutunyan particularly focused on highlighting the differences between Crimea and Donbass conflicts. In this context, a possibility of bandwagoning of Donetsk and Luhansk regions of Ukraine with the the precedent of Crimea has been discussed. 
Another point raised during the event was an issue of status of Russian-speaking minorities in the post-Soviet countries which by being unable or unwilling to integrate minority groups thus disenfranchise them. In the conditions of deteriorating geopolitical relations between Russia and different post-Soviet states such policy can result in providing Kremlin with the opportunity to exploit mistreatment of Russian-speaking minorities for political purposes.
As an example a minority in Ukraine was analysed. The lack of representation of their identity and interest in eastern regions of the country resulted in those groups' vision of Russia as an alternative to Kyiv.
The guest lecture on Russian power, politics and media was held as part of the course Areas Studies: the Post-Soviet Space.