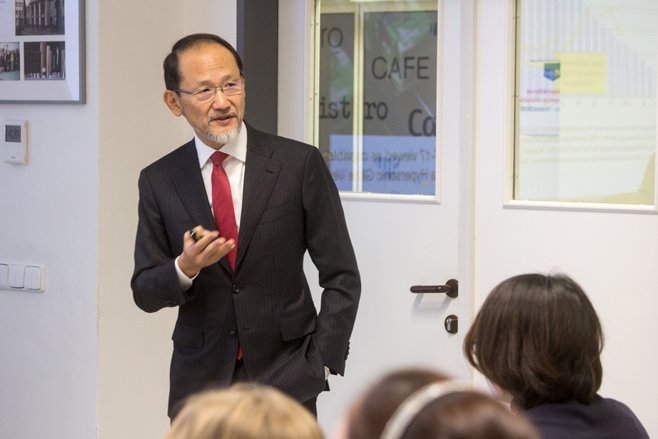 The Japanese Ambassador to Czechia gave a lecture to MUP students
23. 11. 2022 Author: Michal Kolmaš
The Japanese Ambassador to the Czech Republic, Hideo Suzuki, accepted the invitation from the Department of Asian studies of Metropolitan University Prague and came on Tuesday Nov 22 to give a speech about security threats in the Indo-Pacific to MUP students.
Suzuki has been the ambassador to the Czech Republic for more than two years now. He has a long political career. He worked in Japanese missions to France, the USA, South Korea and Vietnam, and he also has experience from the permanent mission to the OECD. At the Japanese ministry headquarters, he headed international cooperation bureau, and acted as a liaison for global issues and climate change. He's thus had a significant experience with international politics, which was apparent during his speech to a packed lecture hall of the MUP's Strašnice building.
The ambassador defined Japan's security threats, including escalating North Korean ballistic missile tests, the growth of Chinese assertiveness and Russian expansionism. Suzuki identified the impacts these have on Europe. Then he described Japanese reaction to these threats, including defence budget increase, strengthening of the US-Japan security alliance and building a set of alliances and institutions across the region. At the end of the lecture, the ambassador replied to several students' questions and received a well-deserved ovation.