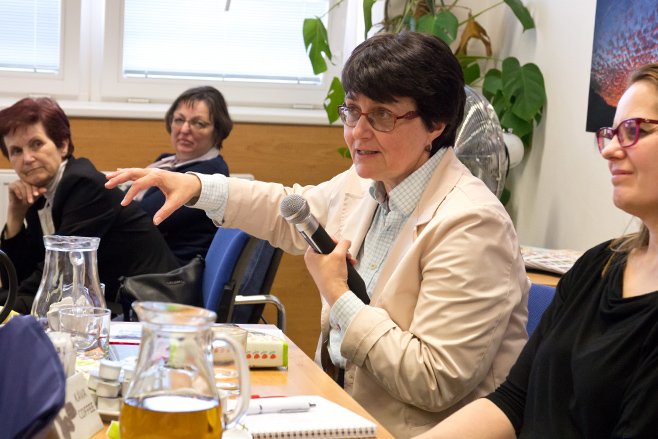 Sustainability – roundtable/discussion
On March 22, 2022 was organised the first round-table of the Department of Financial Management Metropolitan University Prague in cooperation with the professional organization the Association of Chartered Certified Accountants with title SUSTAINABILITY. The event was organized in a hybrid format in university premises. There were about 60 participants connected online and nearly 20 participants and students present personally in the room.
The programme encompassed keynote addresses both from Academia and profession.
Among the promoted speakers were Prof. dr. Rob van Tulder Business Society Management and Academic Director Partnerships Resource Centre (PrC) from the Erasmus University of Rotterdam Netherlands; Prof. Adriana Tiron-Tudor, Babeș-Bolyai University Cluj-Napoca, Romania; and Dr David John Muir from the Anglo-American University Prague. Professional speakers represented Ms Sharon Machado Head of Business Reporting Professional Insights ACCA Global London and Ms Viera Kučerová ACCA Global Prague Head of Markets Czech Republic, Slovakia & Hungary. From the home institution, there were Dr Radka MacGregor Pelikánová and assoc. prof. Irena Jindřichovska.
The professors and representatives of the profession presented current and timely topics leading to subsequent discussion. The program was very intensive and well received. The subsequent discussion will follow among participants on other platforms leading to future research and professional cooperation. We believe that this roundtable discussion is a start to a new tradition.
We believe that the next round table will bring at least the same benefit to all participants as this first one.
TESTIMONIALS/FEEDBACKS
It was a pleasure to be at the Roundtable and I learned also from some of the other presentations (in particular from ACCA).
Prof. dr. Rob van Tulder, Business Society Management and Academic Director Partnerships Resource Centre (PrC) Rotterdam
I thank you for organizing this event and inviting me! The topics were extremely actual and very welcomed For me, it was a great honor to be invited by you to this event and to see you, your colleagues, and our friend David :)
Prof. Ph.D. Adriana TIRON_TUDOR, Babeș-Bolyai University Cluj-Napoca
Dear Colleagues, We would like to thank you for your cooperation and yesterday's nicely prepared event. I am convinced that throughout the event, there were many interesting thoughts that make one think and a lot of remarkable information from which the listener or presenter can continue to draw. we look forward to further cooperation soon. Thank you.
PhDr. Pavel Procházka, Business Relationship Manager, The Association of Chartered Certified Accountants
I am very glad that I was able to attend the SUSTAINABILITY round table. It was a very rewarding experience for me. I had the opportunity to hear the views of world-renowned experts on an issue that is now becoming increasingly important. I saw this not only as an opportunity to broaden my horizons, but also as a welcome inspiration for my work.
Marie Fišerová, Prague University of Economics and Business
Dear Colleagues, Thanks for sharing the invite on the Roundtable discussion. It was quite insightful. Best Regards
Sophia Rahman, MAHE Dubai
"Sustainability is much more than a concept for economical policy. Rather it means a way of life and humanity has the opportunity to secure resources for future generations. Thank you very much for the opportunity to listen to outstanding personalities from around the world and to be reminded of what really matters! It was extremely interesting and educational."
Nina Peter, PhD student, University of Applied Sciences Burgenland, Eisenstadt, Austria
"Thank you for an inspirational round table! I enjoyed the 360° insight of various experts into the topic of sustainability very much."
PhDr. Ladislava Knihová, MBA – Vysoká škola finanční a správní, Praha
"I would like to thank MUP and Mrs Irena Jindřichovská and her colleagues for the good opportunity to be part of the Sustainability roundtable which was held on 23.03.22. This session was very well prepared, including catering. Important contemporary issues were discussed. I am looking forward to the next session."
Jan Zikmund, student of International business. MUP
"Experts mentioned sustainability from several points of view, from a law perspective to its role in the economic sector, which was insightful. Looking forward for more events. Thank you."
Fatima Sadykova, student of International Business, MUP
"It really was a great chance for me to learn new things and meet great people. Yes, the food was delicious and fresh and the atmosphere was amazing. Everyone was so into what they were presenting. Thank you for having me to this roundtable discussion. I hope there will be many more conference like this in the future."
Nguyen Quynh Chau (S-PEF) Student PEF CZU