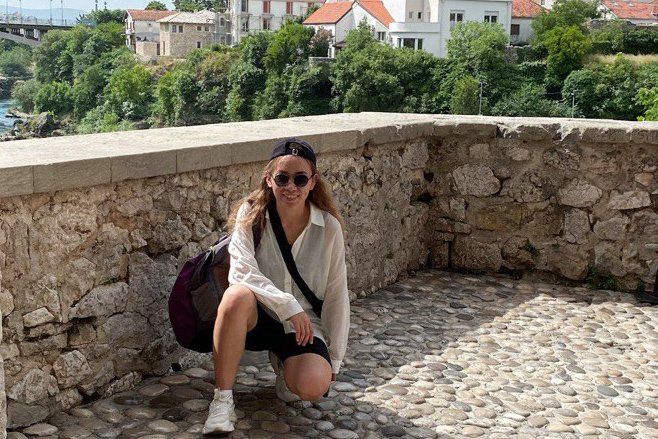 Nagima Kubanychbekova (Media Studies Programme) in Bosnia and Herzegovina
16. 8. 2022 Author: Nagima Kubanychbekova
One day in April 2022 my plane landed at the airport of Sarajevo the capital city of Bosnia and Herzegovina. Why did I choose Bosnia? Of course, I had an opportunity to choose any other well-known countries like Spain or the United Kingdom but being a neophiliac and curious person Bosnia and Herzegovina attracted me more.
The first phase that come to my mind was – «Wow Sarajevo – the clash of Europe and the East!». I found some architectural similarities between Prague and Hungary and at the same time many shops, coffee houses, and numerous pigeons emphasize the similarity with Istanbul. Additionally, the living prices are more Istanbul's than European.
Sarajevo has stunning mountains that feel very close to you and the tap water is very soft and tasty. In Sarajevo, almost everyone can speak English, so I didn't have a language barrier and could easily communicate with anyone. By the way, Bosnian people are kindhearted and very open :)
There are many cities in Bosnia that I was advised to visit, but I only managed to go to the city of Mostar which is located 2 hours by train from Sarajevo. I was fascinated by the beauty of this city and would everyone who will ever visit Bosnia suggest visiting it.
Nevertheless, I was studying at International Burch University in Graphic Design and Multimedia Department. I took totally new for me but interesting and useful courses like Photography, Web Design, and Cinematography. The classrooms at the university are well equipped and have features to practice, the most I liked the photography studio with different cameras, lighting, and editing equipment.  I was impressed by the professor's responsiveness, they were motivating students to practice more and helping them to work on an excellent portfolio to prepare them for work, even if you are only first year.
If to talk about cons I would mention public transports which is not all in the best condition, ancient and without air condition, but it wasn't a big problem for me. Also, I heard that the quality of air in the cold season is unsafe but as I have been there in spring and summer I did not encounter such a problem.
Perhaps it was the best season to visit, but Sarajevo has impressed me and I really appreciate having such an experience.