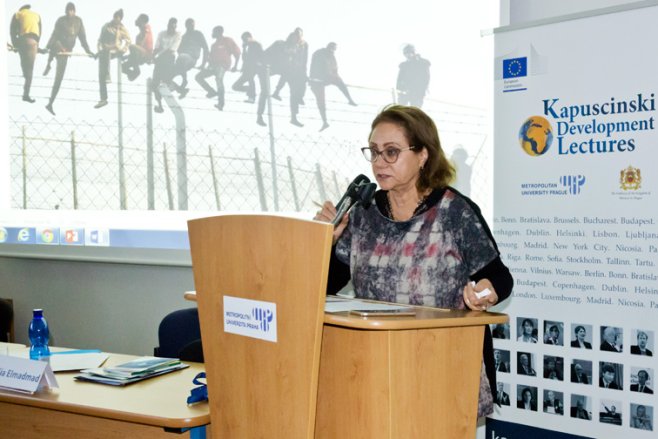 Moroccan Professor Khadija Elmadmad at MUP
22. 12. 2017 Author: Tereza Němečková
On 13 December 2017 MUP organized event which was a part of the global project called Kapuscinski Development Lectures within which every year top global development thinkers from all around the world visit various countries to discuss development issues. It was for the second time already when MUP was selected as the only Czech institution hosting such event in the Czech Republic.
The series of lectures is named after Ryszard Kapuscinski, a Polish reporter and writer covering developing countries. It is jointly organised by the European Commission, the United Nations Development Programme and partner universities from all over the European Union.
Our invitation to become the main speaker has been kindly accepted by professor Mrs. Khadija Elmadmad, Director of the UNESCO Centre on Migration and Law in Rabat (Morocco), who delivered a lecture on very interesting and relevant topic 'Morocco and migration: The Moroccan-EU cooperation'. Mr. Jan Schroth from the International Organisation for Migration joined her lately for discussion.
In total 160 participants, including Ambassadors and other distinguished guests, attended the event during which many interesting messages have been stressed out. 'Although the media bring on a daily basis various pictures and reports about migrants (refugees) arriving at the European soil, it is important to highlight that the majority of African migrants (and also refugees) stay in Africa and do not leave to Europe', was one of them. Despite of the rising hostility against migrants (and mostly refugees) in Europe (and in the Czech Republic in particular), prof. Elmadmad stressed out that Morocco as a developing country attracts lots of migrants, including refugees. These days only, Morocco hosts tens of thousands of refugees mostly from Sub-Saharan Africa. Only from Syria in total 6.000 refugees found the protection there. Adding to the rich and long lasting experience of Morocco with migration, prof. Elmadmad also mentioned the famous traveller from 14th century Ibn Batuta who was of Moroccan origin. Travelling abroad and settling down there is still attractive for many Moroccans. This is also a reason why such a large Moroccan diaspora resides abroad, mostly in Europe. As lately noted by Mr. Schroth, only in a form of remittances Morocco receives annually money in value of around 7 percent of its GDP.
Our thanks go out to all who participated in the event as well as to those who were behind and helped with organisation. Special thanks go to the Embassy of the Kingdom of Morocco who became official partner of our event and also provided some Moroccan sweets to participants.