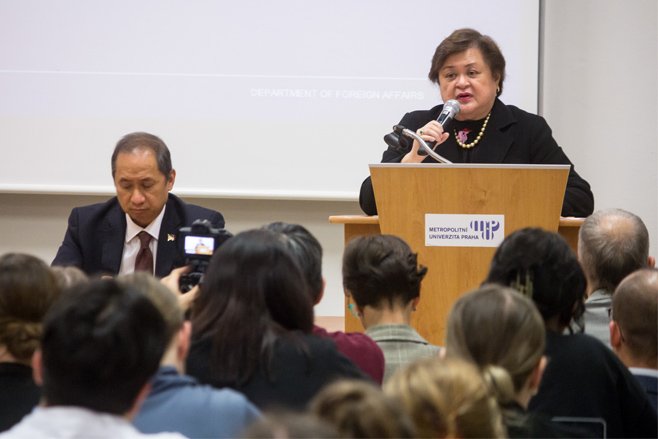 High Ranking Philippine Representatives Discussed Politics and Security in East Asia
15. 11. 2023 Author: Michal Kolmaš
Approximately 150 students attended a lecture by a high-ranking foreign ministry official of the Philippines Ma. Theresa Lazaro. Her speech introduced Philippine foreign policy in East Asia amidst an uneasy relationship with China and the United States, and was followed by an hour-long discussion.
The envoy of Philippine representatives included several other high-ranking officials including the Ambassador Eduardo R. Meñez, the Assistant Secretary Maria Elena P. Algabre, Minister Indhira C. Bañares and the Assistant Director Elaine Mae Laruan-Hernandez. Other guests that took part in the discussion included the former Czech Ambassador to the Philippines Jana Šedivá Treybalová, the Chargé d'affaires of Myanmar Htuann Naung and the founder of the Asian Studies department at MUP Tomáš Petrů.
Undersecretary Lazaro – a former ambassador to France and Switzerland and now the second person in the Philippine Ministry of Foreign Affairs–gave a presentation about the uneasy situation the Philippines find themselves in within a strategic yet highly contested region. She introduced Philippine interests that include a mix of cooperation and balancing between the superpowers while protecting Philippine national interest and the Filipino people abroad.
The speech was followed by a QA session, in which several students mostly from MUP's International Relations and Asian Studies programs asked fundamental and erudite questions about Philippine relationship with regional rivals (especially China) and extra-regional partners including the Czech Republic, but also about sex trafficking of Filipino citizens and incursions into Philippine fishing waters.
During the QA, both the Ambassador Meñez and the undersecretary Lazaro praised Czech policy towards the country – as was highlighted by the recent visit of Prime Minister Petr Fiala in Manilla. The visit will likely expand on MUP's relationships with Philippine academic institutions to promote academic and student exchange between the two countries.