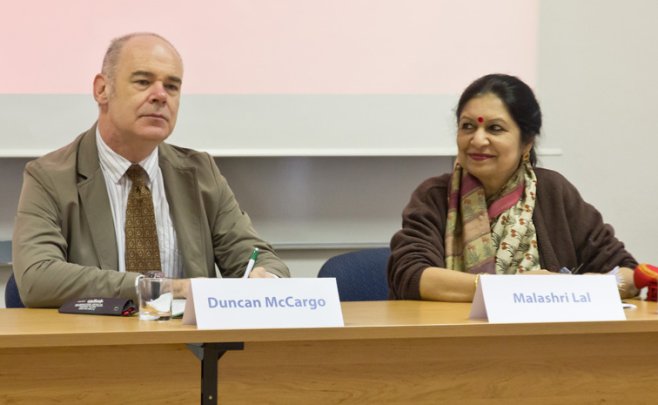 Conference on Contemporary Issues and Trends in South and Southeast and East Asian Societies Successfully Closed
22. 11. 2016 Authors: Michal Kolmaš, Maria Strašáková
On November 11, 2016, the Department of Asian Studies and the Center for Indo-Pacific Studies at Metropolitan University Prague organized yet another of its annual conferences dedicated to Asian countries. It was for the eighth time that a group of leading World and Czech specialists met in the premises of the Žižkov Building of MUP to discuss contemporary issues in Asia. Their presentations were followed by a number of distinguished guests as well as many students of the University.
The topic of the 8th Annual Prague Conference of Asian Studies were problems and challenges of Asian societies. It was, therefore, fitting that the opening keynote speakers addressed different facets of lingering issues in Asia. Professor Malashri Lal, the Convener of the English Advisory Board of the Sahitya Akademi, discussed Women's Writing in Asia; while professor Duncan McCargo, from the University of Leeds, scrutinized the question of using political ethnography as a primary research method for understanding contentious issues in Southeast Asia.
The keynote session was followed by two parallel panel sessions, which focused on different trends and issues in Asian societies. Among the presenters were both internal academics of the Department of Asian Studies at MUP, as well as external specialists from Austria, Brazil, the Czech Republic, Great Britain, India, the Philippines or Japan. Many topics were covered, such as reflections of social problems in Indian literature, social exclusion in Japan, environmental issues in Southeast Asia, contentious relations among East Asian states and last but not least the rise of China.
The Conference on Asian Studies would not have been possible without the tireless efforts of our colleagues, namely Blanka Knotkova-Capkova, Michal Kolmas and Petra Andelova as well as students from the Department of Asian Studies. The organizers would also like to express their gratitude to colleagues from other departments for their organizational help, especially Stanislava Zahalkova, Patrik Slechta, Jakub Saroun and Danuse Machova, and the Metropolitan University Prague for providing support and sponsorship.
From the feedback that we have received from both the panelists and guests, the conference was a success and spurred further interest in Asia and its current issues.