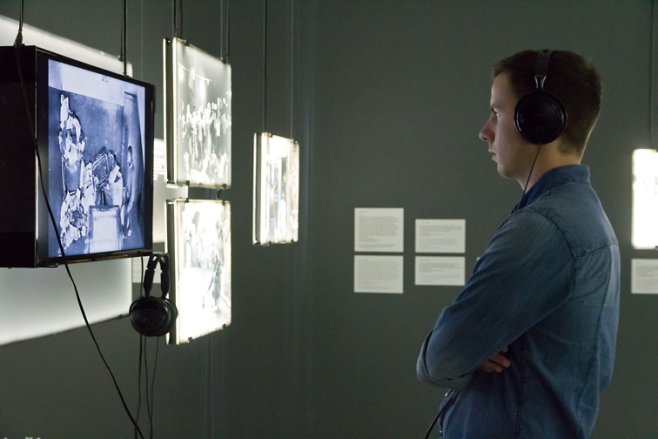 The Department of IRES at Upfront in War Zones
3. 6. 2016 Autor: Šárka Kolmašová
On the occasion of the 15th Anniversary of the MUP, the Department of International Relations and European Studies (IRES) organized a commented tour in the DOX Centre of Contemporary Art. On the 20th of May, all participating students met with the Head of the Department, Mitchell Belfer and the Deputy Head, Šárka Kolmašová in the main hall of the centre. Students had an opportunity to visit a unique architectonical masterpiece, which was intentionally designed as a labyrinth to resemble the disarray of contemporary art. The primary aim of the tour was a commented exhibition of photographs from war zones with an apt title "Upfront". Overall, the centre seeks to present exhibitions showing how politics is merging with art, including thought provoking and controversial installations. Upfront accomplished the mission completely.
Before the actual tour, the commentator introduced the background of the exhibition, while reflecting on work of war photojournalists and various dilemmas they are facing. Should they intervene in the situations they are shooting if their help is needed? Are they misusing the tragedy of other people for their professional career? Or, in the case of the exhibited photos, is it worthy to risk own life to share the experience, especially if the authors do not have any material support of a particular institution? Well, at least to the last question students replied by one voice positively.
The exhibition included about 70 pictures by Hispanic authors, most of them holders of prestigious international prizes. Despite they were supposed to be exclusively from war-zones, the exhibited pictures showed various crises situations not necessarily involving armed conflicts. The common denominator was rather individual people in extreme situations, which evoked strong emotions and triggered imagination of what were the stories behind the pictures. Very often the photos tended to play with a misperception and only after reading the tags, the actual context was revealed. This clearly demonstrated how easily we can be manipulated by powerful images if they are presented to support concrete political agendas.
After completing the tour, we moved to the beautiful terrace café in the second floor. Over a coffee and cake, we shared our impressions from concrete pictures and debated the crises they aimed to grasp. Obviously, this was one of the artistic experiences, which leave a trace and do not allow simply consuming the entertainment. The exhibition literally transferred us Upfront human disasters caused by failures in international political affairs. We said goodbye with a promise to organize similar excursions in future.