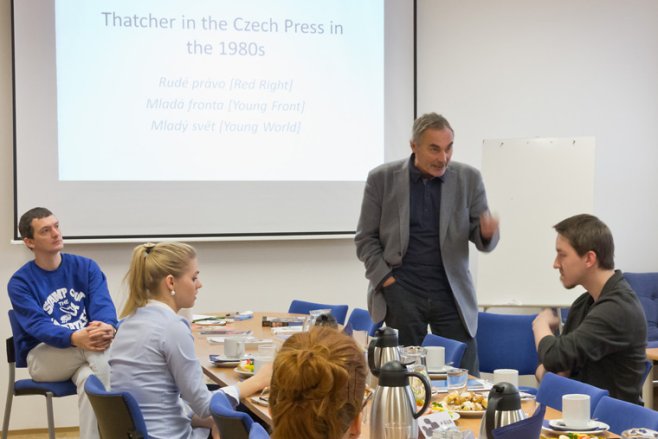 Thatcherism in the Czech Lands
4. 3. 2015 Author: Jaroslav Weinfurter
The world of academia is a world of division. The academic universe is, more often than not, carved up into autonomous and self-contained magisteria, each clinging to its designated slice of social reality. Although not completely unjustified, the tribalisation of academia can be said to promote division, segregation and competition in the name of expert community-building, research focus, variety and order. And yet, this seems to stand in stark opposition to the wonderfully and mind-bogglingly entangled world that spreads out behind the window, one that appears to continually resist rigid categorisations and attempts to impose patterns of order and control.
What happens, then, when an unlikely group of researchers from all walks of academic life is brought together to work on a single research project? Well…magic, mostly.    
At least such has been the experience of, and I believe I can extend this to all of us, Gerald Power, Jitka Vollamová, Zlata Kopřivová and myself on our collective two-year quest to explore the impacts of Margaret Thatcher's politics in our homeland. Under the patronage of MUP's Internal Grant System, our team has set out to consult a wide range of sources and compile a comprehensive narrative of the roots, characteristics and fortunes of Czech Thatcherism – a truly challenging study, the results of which are to appear in our joint publications.      
Thus, having an efficient, dedicated and prolific research team becomes an absolute necessity for an undertaking such as this one. The true strength of our group, however, came not from our uniformity and shared expertise in the subject, but, strangely, from our all too apparent diversity. Different research and disciplinary backgrounds of the participants, different personalities and different ways of approaching intellectual questions have all played their part in forming an environment conducive to learning and sharing of knowledge, where variety is embraced and made the most of in searching for creative solutions and answers. And isn't it at precisely this state of affairs that scientific research fids itself at its most effective, productive and, indeed, interesting? The answer is a resounding "Yes".
The topical roundtable conference organised on 19 December at MUP testified to exactly that. The participation of several students from Anglophone Studies, MVES and IRES, head of Anglophone Studies Prof. B. Hnízdo, head of the centre for the promotion of research Dr Ondřej Daniel, Lenka Kristenová (Anglophone Studies) and Marie Hamšíková (International Office) contributed to a lively discussion, which also featured a detailed response from Dr Martin Farr, from the University of Newcastle, who is researching the international reception of Thatcher.             
Before I sign off, let me take this opportunity to thank the University for its endorsement of our project and wholeheartedly express our joint recommendation to MUP to continue its support for similar interdisciplinary projects in the future. Let's build bridges, not walls.