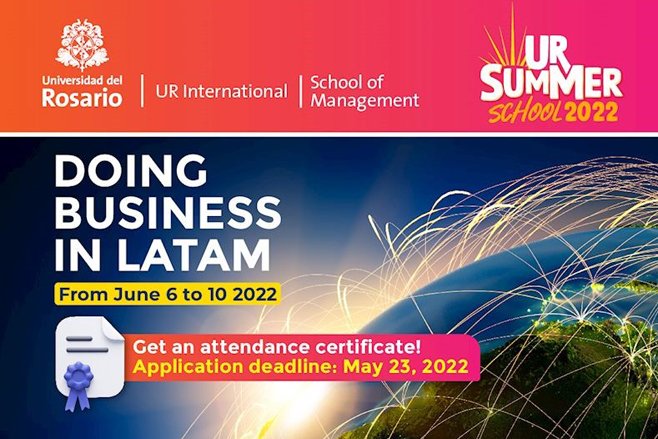 MUP students participated in the summer school "Doing Business in LATAM"
30. 8. 2022 Autor: redakce
Our partner university Universidad del Rosario in Colombia has invited MUP students to participate in the on-line summer school "Doing Business in LATAM". 15 MUP International Business students took part in the course, which was held from 6 to 10 June 2022.
Here are the students ̓ feedbacks:
Imane Hmiddou | Regional Studies and International Business (Master degree, 1st year):
''Doing in Business in LATAM summer school was an intriguing window for me to discover and understand the Latin American culture, history, economic structure, and specificities. Throughout the sessions, I had the opportunity to receive a fulfilling content from experts. Rather than the valuable content, the way it was taught was also interesting especially with Dr. Cesar Camilo who included the joyful musical aspect to the image. Additionally, the offer by Dr. Alejandra to join research group at the university was highly appreciated and inclusive.'' 
Marina Ivanitsa | Regional Studies and International Business (Master degree, 1st year): 
"Thank you for the opportunity to participate in the Summer Course on Doing Business in Latin America. This is my first experience of this kind, and I was very pleased with it. I would like to especially note the teacher, Mr. Cesar Camilo Martinez Lozano, who immersed us completely in the atmosphere of Latin America, even with the help of music. Also, many thanks to M.Sc. Alejandra Pulido López, during our lecture we really had very interesting discussions. All our questions and speculations were left behind after talking with her. I really liked how the teachers used third-party tools to make lectures more dynamic (I especially remember Kahoot game). I hope to apply what I have learned very soon".