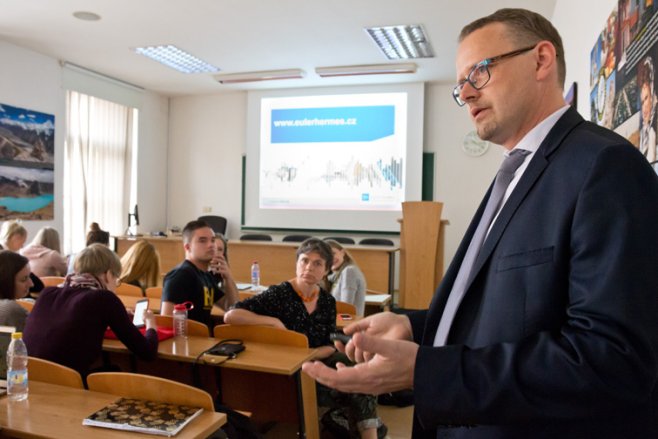 Learn How to Protect Your Business – Learn About Credit Insurance
23. 5. 2018 Authors: Martina Varkočková, Lea Melnikovová
Department of International Business organized an open lecture called Private Credit Insurance which was delivered by Luděk Obadal, the Country Manager of the credit insurance company EULER HERMES, member of Allianz.
Credit insurance serves as one of the instruments mitigating risks connected with doing business, especially the risk of not being paid for goods and services. More than ninety per cent of domestic and international trade is performed using delayed payment methods, meaning that suppliers provide their customers with credit for 30-120 days period. Even within such a short time, anything can happen that will prevent the customer from paying for the delivered goods that can result in serious problems for the supplier. The lecturer illustrated this fact by a highly interesting calculation: supposing your customer does not pay an invoice of 100.000 CZK, with 2% profit margin, your business has to make up for the loss by creating additional  turnover of 5.000.000 CZK.  
In order to protect the business from such unfortunate (and not uncommon) situation, credit insurance helps by providing several interconnected services: 1) risk-prevention and 2) risk-monitoring through information gathering, 3) credit-management advice, 4) debt collection and 5) claim indemnification.  Therefore, credit insurance can be regarded more as a complex financial service rather than simple insurance.
Luděk Obadal not only introduced the commercial private insurance as such but he added information about his company, encouraging the students to consider their future career in this interesting and complex sector.