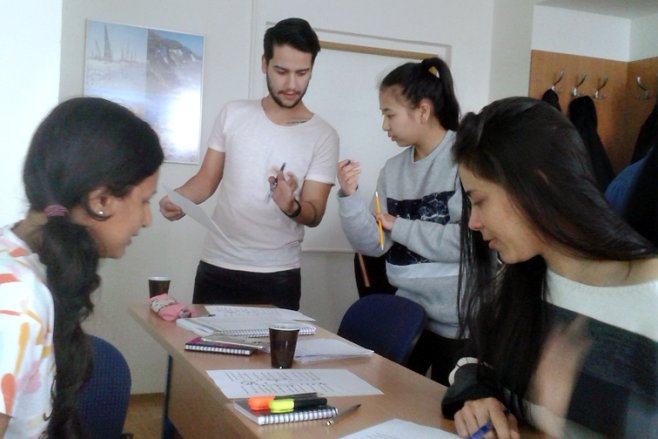 Intensive Year of English
26. 9. 2017 Author: Romana Vančáková
Run by the Department of Foreign Languages, this course has a three-year tradition at Metropolitan University Prague. This makes it a baby in comparison to our department, founded in 2008 and now becoming more of a confident teenager.
Due to the wonderful variety of nationalities enrolled in the course this year, the 2016-17 course has been a truly special one. There were students from Yemen, Brazil, Ukraine, Russia, Turkey, Vietnam, Kazahkstan, Azerbaijan and Uzbekistan.
Such a variety may present quite a challenge for the teachers in terms of teaching grammar, pronunciation and explaining some more complex lexis. This is caused by the fact that the students' mother tongues work differently and they may not even belong to the same language family. On the other hand, such a course is extremely enriching not only for the students but also for the teachers. Everybody brings different expectations, approaches and attitudes, as well mother tongue and culture. 
On 9th June 2017 we said our final goodbyes with a tear in our eyes to our wonderful students who have stayed with us till the very end. However, we hope to see most of them in October, when the new academic year begins, as our regular university students in our English Bachelor or Master programmes.
Regiane Alves has written:
"I am from Brazil and I decided to come to Prague because I fell in love to this city two years ago and I would love to have an experience living in this amazing city. My English was not good enough to live abroad and after a long search I decided for the MUP English Course and it was a great choice.
The opportunity to have classmates from different parts of the world provides us the amazing possibility to get in touch with new cultures.The teachers are really helpful and attentive and the daily classes help us to improve ours skills very fast."
Bakhtiyor Zufarov has written:
I am from Tashkent, Uzbekistan. Language courses in MUP is the best instrument to enhance my language skills. After finishing this course I would like to apply my Master's degree in MUP. I like every classes which are held in MUP by high qualified tutors.