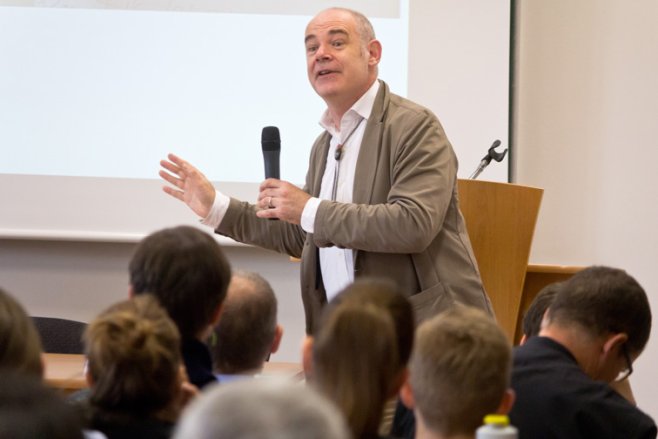 The Department of Asian Studies MUP Held a Conference on Conflicts and Their Reflections Not Only in International Relations
10. 11. 2017 Authors: Michal Kolmaš and Mária Strašáková
At the beginning of November, nearly eighty fans of Asia came to listen to presentations dedicated to Asian conflicts by leading world and Czech experts at the 9th Conference on Asian Studies organized by the Department of Asian Studies at the Metropolitan University Prague.
The conference, which focused on the reflection of conflicts in Asian politics and culture, attracted academics, among others, from the United States, Japan, Romania, or Austria. Altogether, the conference offered almost twenty-five contributions to the themes of the conflict potential of China's growth, the militarization of contemporary Japan, the transformation of political violence in Indonesia to the reflection of the conflict in Indian literature and film.
This year the keynote address was presented by one of the most leading specialists on South East Asia, Professor Duncan McCargo, who is affiliated with the University in Leeds and Columbia. He spoke of the long-standing conflict in southern Thailand, which – although internationally overlooked – has already claimed more than 6 500 victims. Among other contributions, it is worth mentioning the analysis of the Chinese strategy in the South China Sea by Alfred Gerstl and Padraigh Lysaght of the University of Vienna.
However, the viewpoints of leading Czech academics were also represented, e.g. Associate Professor Šárka Cabadová-Waissová spoke about the role of NGOs in Sino-Taiwan relations, Associate Professor Jan Sýkora discussed the issue of hidden poverty in Japan and Associate Professor Blanka Knotková-Čapková about the reflection of the conflict in Indian film.
All contributions sparked a lively debate and great interest from the participants. All the lecturers subsequently accepted the Metropolitan University's invitation to a dinner.