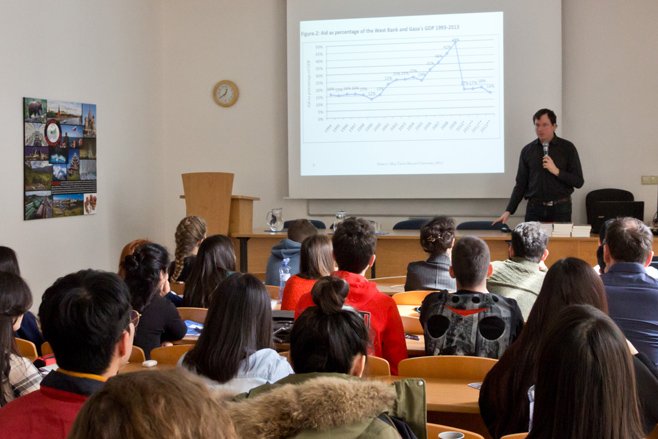 Shir Hever about the International Aid to Israel and Palestine
4. 4. 2019 Author: Tereza Němečková
Israeli journalist and expert on the long-term economic impacts of Israeli occupation of the Palestinian territories Mr. Shir Hever visited Prague to meet students and introduce them to the historical and political context of international aid provided to Israel and Palestine.
International aid is generally seen as a tool to help less developed countries, or countries affected by natural disasters or war conflicts, to get out of their difficult situation. But as the example of international aid to Israel and Palestine shows, international aid can also become a strong political tool to promote the interests of selected actors.
The decades-long conflict between Israel and Palestine over the territory has triggered a situation where Palestinian territories have come under the control of the State of Israel, including control over sources of funding for their development, while Israel has become one of the most advanced economies in the world, also thanks to international aid. As Shir Hever pointed out, since 2009 the international aid to Palestine has been declining significantly, further exacerbating the standard of living of Palestinians. Gaza's predictions even suggest that within only a few years this area will be uninhabitable (despite the fact that 2 millions of people live there).
Today it is mostly the U.S. administration which cuts its aid budgets to Palestine while at the same time pledges increase in military aid to Israel. Israel is currently country No 1 receiving the largest amount of military aid from the U.S. Shir Hever also drew attention to the fact that international aid is provided to Palestine by other Arab countries in the region, however we do not have accurate statistics on how much of aid is being distributed. Nevertheless, on the example of these two states, students could have learnt how much international aid can have an impact on the local development and how much it can also serve interests of its donors.