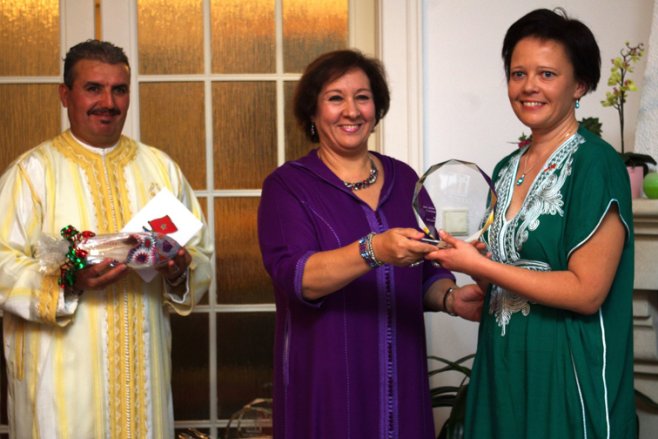 Dr. Němečková Received Award from Ambassador of His Majesty The King of Morocco
5. 10. 2017 Author: editors
Ambassadors of foreign states occasionally grant awards to partners who help them to enhance the mutual relations between the respective countries. On occasion of finishing mandate the Ambassador of H.M. The King of Morocco H.E. Mrs. Souriya Otmani decided to follow this tradition.
On Monday 25 September 2017 the Ambassador hosted a reception in her residence in order to grant such awards to her Czech partners. Dr. Němečková from MUP Department of International Business was among the three main awardees. In her thankful speech the Ambassador highlighted efforts of Dr. Němečková to establish and unfold the academic relations between the Czech Republic and the Kingdom of Morocco which enable not only exchange of students and professors but also the mutual respect and understanding, so as the Ambassador highlighted her friendship and respect to the Moroccan people, or the culture respectively.
Dr. Němečková's professional interest lies in Africa for some time already so it might seem natural to receive such award. Though one cannot deny that receiving such award represents an exceptional achievement. Editors of imup.cz send their best compliments.