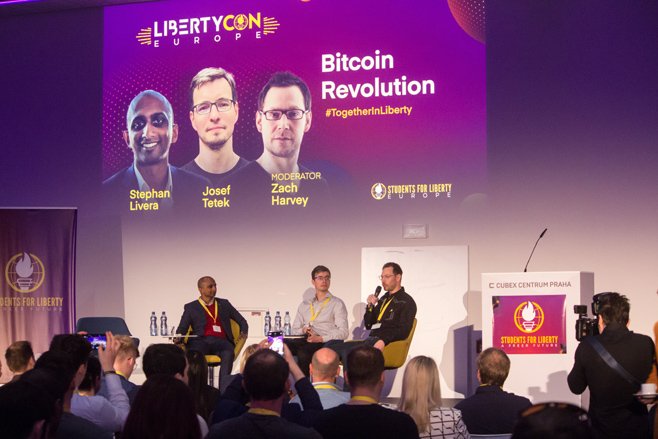 LibertyCon – the Largest European Conference on Liberty
The largest world liberal student organisation Students for Liberty hosts the annual multiple-days conference LibertyCon where students and amazing speakers from all over the world meet. Their aim is to emphasize liberty and enthuse young people to seek a liberal future. This spectacular event takes place in a different venue every year, now it came back to Prague after 5 years and Metropolitan University Prague was one of the partners.
The first day of LibertyCon took place in Cubex Centre in several halls simultaneously with lectures and open debates with students – including MUP students – about the philosophy of liberty. The topics covered, for example, the role of the government in a liberal society, technology, authoritarianism in Eastern Europe and Russia, Bitcoin, approach to the pandemics and other challenges that Europe is currently facing. There were many important speakers from specialised fields but there was also an (online) speech by Sviatlana Tsikhanouskaya, a Belorussian opposition presidential candidate from the 2020 elections, or Leszek Balcerowicz, a former Polish vice-PM. The head of the Department of International Business of Metropolitan University Prague professor Josef Šíma with Martin Urza appeared on the panel called "The path to a liberal future". During the debate, prof. Šíma also presented his new book Against the Flow – Talks about Liberty, Respect to Humans, Economics and Money.
During the whole day, Cubex also simultaneously hosted Liberty Fair – an exposition of liberal organisations from all over the world. Metropolitan University Prague also had its stand there.
On the second day, the event transformed into a festival in Radlice Cultural Sport Centre where guests enjoyed music, movie projections and stimulating debates of activists from various parts of Europe. Despite the initially unpleasant weather, the event was a great success.
More info: https://libertycon.net